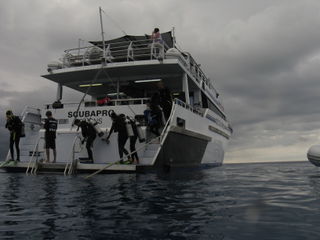 As part of our trip to Australia, we did our first liveaboard dive trip with Prodive of Cairns. Three days, two nights on the Great Barrier Reef. We were a little nervous because we hadn't dived much for about 12 years, although had more than 50 dives under our belts and were PADI Advanced Open Water qualified.
The good folks at ProDive were great. Zach the captain, Chris the chef, and Lindsey the divemaster for the qualified divers on board were thoroughly polished and professional.
After the first orientation dive, we were left to our own devices, something which was a little nerve wracking for a couple of oldies who had not dived much. But their confidence in us, and the back up safety measures they took, gave us the confidence to dive on our own and manage our own dive plans.
The reef itself is definitely suffering in patches. Some magnificent coral and some that is in deep trouble. We didn't see too much that was special in terms of marine life, but definitely enjoyed the ability to cruise around the reef, secure in the knowledge that we couldn't go far from the boat.
The onboard team also managed the process of getting 32 divers in and out of the water very well, getting the novices away first to do their training, then getting the more experienced divers into the water. As a result, we want to do more diving, and will definitely do a liveaboard again. Thanks ProDive!