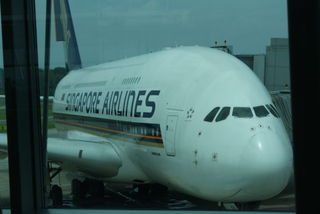 I flew to Australia and on three of the four legs was lucky enough to fly the A380. It is mostly great, but there are definitely some issues that you need to be aware of before you decide to fly the beast.
If you get to fly First, there probably is nothing better in the skies. Even Business class looked magnificent, with the seats just four abreast. They are really WIDE. Watch your head on the overhead lockers walking through. If they are open they are very dangerous to moderately tall people.
Sadly I was flying economy. Sadly, only because the A380 flies long routes, and because I don't have enough cash to pay for an upgrade myself. London to Singapore is about 13 hours, and Singapore to Sydney is about 7.  First tip - fly the upper deck if you can. The economy seating is 2-4-2 not 3-4-3 as it is downstairs. Second tip, get seats in row 81. That is the emergency exit row on the upper deck. Lots of leg room, and worth paying extra for. Only downside is that the tray tables are crap, so you feel like your lunch will slide off the table, and there is no stowage nearby so you have to get on board early to make sure you can put your luggage away. Avoid the seats behind this row. The last two rows in the centre are two seats but all of the last row is way too close to the toilets. You will never get any rest.
I really like the fact that the floor is solid, so people walking don't disturb you. Other aircraft flex so much that it is like listening to a herd of elephants every time the staff move around. The entertainment system is great when it works. On all three flights we had to have one of the units reset. Fortunately they can reset each seat individually so you don't disturb other viewers. Selection of films, tv, music is excellent. We used our own noise cancelling headsets - surely it is time that the airlines provided these as standard in all classes?
Seat pitch is pretty poor for long flights. But seat comfort and width is better than anything else I have flown. The firm seat feels hard at first, but is really good once you have been in the air a while. Noise in the aircraft is low, much better than other planes. At the rear of the aircraft you definitely feel the turbulence more, and there is a definite waggle from side to side and up and down. Queasy stomachs should aim for the middle of the plane.
Food on Singapore Airlines is good, and a variety of special meals arrived promptly and were pretty good according to my partner. I managed to get my choice of meal on each flight, so clearly they manage the choices well. Portions are not overly generous, but the timing is good. On the 132 hour trip, I did get hungry and raided the galley where the staff leave a small selection of snacks, even in economy. Ice cream made a nice dessert on two of the trips.
Staff are very tolerant of people standing and moving about the aircraft. There are stairs in economy at the rear so you can go up and downstairs. Downstairs has a little more room to stand near the toilets without disturbing other passengers.
The biggest downside is waiting for luggage. We checked in early for all flights and suffered getting our bags off last. Why can't the airlines use FIFO rather than LIFO for bags???? There are a lot of bags to move on an A380. Travel with hand luggage if you can, although fur us it was impossible on this trip.
The last thing is that we ended up on a 777-400 for one leg. That was a real let down after the A380. If you have to use a mix of planes, try and make sure that the A380 is used on the long legs - otherwise you will be really disappointed by the other aircraft!