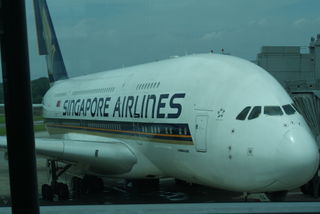 Recently I flew to Australia and back with Singapore Airlines on their new A380 for three of the four legs. Their reputation for service was upheld by all the staff we encountered, but was tested on our return from Singapore to London. This is a 13 hour flight to start with, so pretty testing for us economy fliers. But when we encountered a delay, their true qualities came through.
Singapore had maintenance issues on the first A380 so they then moved us over to the second airplane. We loaded late, and then heard from the pilot. "We have a problem with the water pressure on the aircraft and it is causing a leak in the galley that we have to fix. Parts are ordered, and it should take 30-45 minutes". About an hour later, the pilot again. "We thought we were good to go, but the seal didn't hold and we have to get another part delivered and installed." In the end we sat for over 3 hours in the airplane. What was great was the way the staff handled it. The pilot was clearly frustrated with the issue, genuinely concerned about the problem, and it came across in the way he spoke.
But it was the cabin staff who made the whole business bearable. They responded to call buttons and delivered drinks to people who requested them. Once it was clear there would be a second delay they asked and received permission to dole out the mid flight snack to people so that we had something to quiet the rumbling tummies. And they cracked open the inflight bar and gave alcoholic as well as soft drinks to passengers. They were unfailingly polite, helpful and solicitous. What a difference to the experiences I have had on other airlines. BA recently brought out a new slogan - upgrade to BA. Well I would upgrade to Singapore Airlines any time. They are worth a premium, especially when things go bad.